Fall Registration Is Full
---
We have reached our maximum player capacity for the fall. As originally posted, player spots were limited. As a result, we are now on a waiting list. There are a couple of reasons we have a player limit in the fall.
1. Field availability. Due to other sports and the need for lights, we have fewer fields to use, which limits the number of possible teams. Parks and Recreation determine field availability, so this outside of our control.
2. Saturdays. We chose to only play on one Saturday, August 11th. This is for several reasons, including other sports. This reduces how many games we can play on our available fields.
We recognize the situation may cause frustrations, but unfortunately, we are unable to accept additional players. Thank you for your understanding.
CLICK HERE to be added to our Waiting List
CLICK HERE for our 2018 Fall Ball Age Chart
CLICK HERE our 2018 Fall Ball Rules
---
Congrats to the Division II Rays
---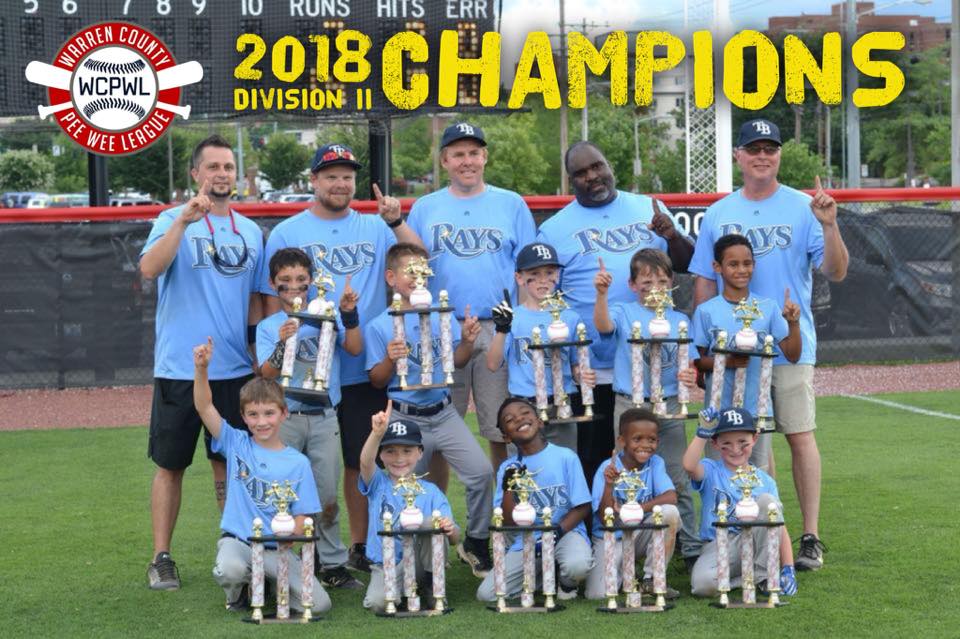 About WC Pee Wee Baseball
---
Warren County Pee Wee Baseball is for 4-8 year olds in Warren County, KY comprised of T-Ball, Division I (5 and 6 year olds) and Division II (7 and 8 year olds). The goal of Warren County Pee Wee Baseball is to teach area youth the fundamentals of baseball in a fun, competitive, and safe environment.
UPdate on 2018 Bat Guidelines
---
Starting in 2018, Pee Wee baseball has updated our rules regarding acceptable bats. The rule now reads:
1) Any bat with a 2 1/4" diameter OR
2) 2 5/8" diameter bats stamped with the USA baseball stamp on the handle and manufactured in 2018 or later.
Please note that Little League and Cal Ripken are mandating that all bats meet the USA standard. Thank You.
---
Online Background Checks
---

Online Background checks for the 2018 Spring Season are NOW OPEN! If you would like to volunteer this season please complete the Online Background Check ASAP! CLICK HERE to complete.
---